Get Ready for the 2021 Civil Rights Étouffée!
January 28 and 29, 2021 
Even though we can't be in New Orleans, we will once again present the best Civil Rights CLE at the best value.
Please join us! 
Panels
Police Practice
How Implicit Bias impacts policing, training as well as legal advocacy
Presenters: Colonel Heston Silbert, Director, Arizona Department of Public Safety; TBA; Moderator: Wylie Stecklow
Education
Responses and Remedies to COVID-19 for students with disabilities and other vulnerable populations
Presenters: Margie Wakelin (Educ Law Center Philly), Carl Beard (represents school districts in Pennsylvania), TBA; Moderator: Caryl Oberman
Title IX in the Era of #metoo
Litigating Title IX cases — different standards, different strategies, expansion of the right, expansion of claims.
Presenters: Mica Mckinney, general counsel from Utah State; Ann Olivarius, a national renowned plaintiff's attorney; TBA; Moderator: Kyle Kaiser
Intersection of First Amendment & LGBTQ Rights
The 1st Amendment vs. LGBTQ Rights: An Update on Religious Exemptions Litigation
Presenters: Camilla Taylor, Constitutional Litigation, Lambda Legal; Chris Lund, Wayne State University, History of First Amendment jurisprudence; Moderator: Robin Wagner
A.I. Machine Learning, Big Data & Civil Rights
Reliance on Artificial Intelligence has already led to errors and damages to individuals, as well as violations of privacy. Learn from attorneys litigating these cases about concerns with the continued expansion of AI in our everyday life.
Presenters: Phil Mayor, ACLU Michigan; Vincent Southerland, NYU Professor, Chair on Race and Inequality; Moderator: Jennifer Lord
What is Climate Justice?
The Intersection of Environmental and Civil Rights
Rebecca Bratspies, Professor & Director of the Center for Urban Environmental Reform, CUNY; Emily Posner, private practitioner; Marianne Cufone, Director of the Loyola Environmental Law Center; Moderator: Laura Sanchez Fowler
Keynote
How to Handle a Case in the Headlines
How To Handle Media & Social Media in the age of a Twitter President, a conversation with Joe Bondy
Joseph Bondy, Counsel for Lev Parnas, creator of #LetLevSpeak 
Registration will be live on November 15, 2020.
To join our mailing list or for more information, please email us at civilrightssection@fedbar.org.
2019 Civil Rights Étouffée in New Orleans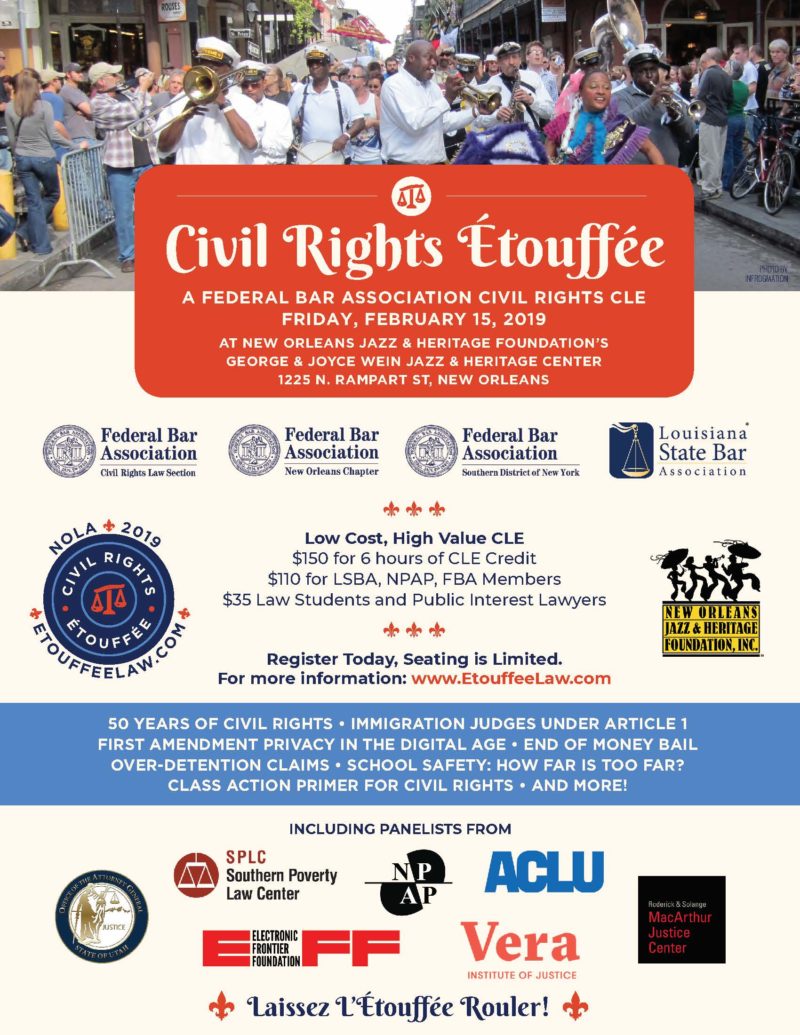 2018 Civil Rights Étouffée On the Road
In 2018, we kicked off the "Étouffée On The Road" Civil Rights CLE Series!
We hosted events in Detroit, Salt Lake City, New York City and Boston!
If you'd like to bring a Civil Rights "Étouffée On The Road" to your local jurisdiction, let us know and we will make it a reality! Email FBACivilRightsLaw@gmail.com to get started.